Emma Posted on July 28 2019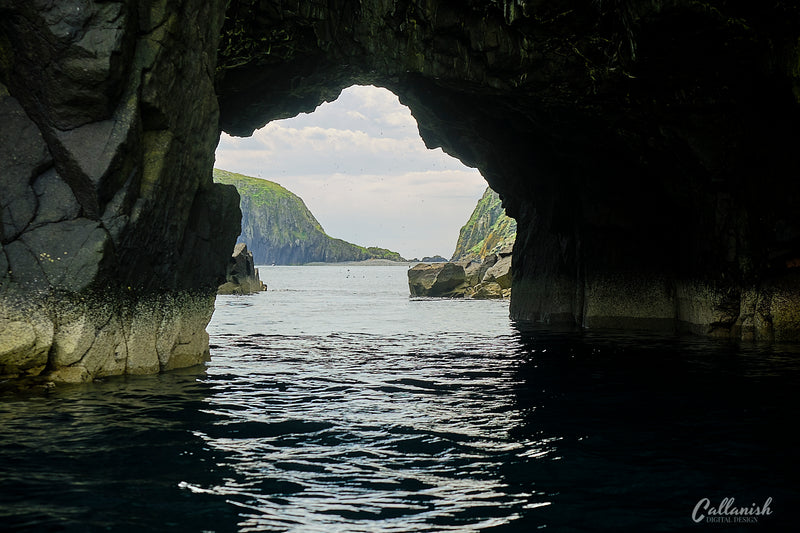 The Shiant Isles lie in the Minch, the stretch of sea between Lewis and Harris and the Scottish mainland and the Isle of Skye.
I first visited last year and was enchanted. I saw a chance to go again this year with Sea Harris from Tarbert and took it. I needed the break from personal problems, plan delays and trying to get my head round social media marketing for my new online store 
The trip out on the comfortable and modern Rib takes about an hour. As you approach the islands you start to notice Puffins, first one, then another couple, flying or in the sea. Then as you approach the islands, first a few towers of Basalt columns rising up from the sea you realize you are in Puffin paradise, they are everywhere. 
Last year my focus was on the Sea Birds. I had just read Adam Nicolson's book on Sea Birds. This year my focus on the wonderful geology of the rock, the towering and sometimes twisted and angular Basalt column formations create an extraordinary world of cliffs and caves and crevices. 
Everywhere you look though there are seabirds, nesting, flying, feeding and floating on the surface of the sea, or diving into the clear waters as the boat passing disturbs them slightly. 
Other than the Puffins there are many Guillemots and the Cormorants close cousin the Shag, Razorbills and seagulls (of course).  

I spotted a Golden Eagle just as it disappeared behind the top of a cliff - I didn't manage to see it again.
Guillemots nesting on the cliffs. There are hundreds of them. 
 There aren't many Gannets, there are no Gannet colonies but we spotted a few passing by.
On past more amazing Basalt column formations at glorious angles. 
To the archway of rock framing a first glimpse into the Bay, house island and the subject of my next blog. A bit about the islands history, the people who once lived there and the inspiration gained from reading Adam Nicolson's book 'Sea Room'.